Company Profile
Chester Enterprises, Inc. is a one-stop shop for textile needs, established on the 27th of October 1966 by Edgar Cokaliong along 25-27 A. Borromeo Street in downtown Cebu. For years, it has served Cebu and the Vis-Min area with quality textiles, and has expanded its market coverage from classes A to D with its reasonable prices. As a wholesaler and retailer, we are the direct & indirect sources of textile materials for the tailoring industry and garment manufacturers.
In the 90's, Chester Enterprises, Inc. ventured in merchandise mix including ready-to-wear jeans and t-shirts. Meanwhile, new textiles were sourced abroad from Taiwan, Bangkok, Korea and Indonesia in order to give the Cebuanos an up-to-date trend and a competitive edge in fashion.
In the 5th of March 2000, Chester Enterprises, Inc. extended its doors to its customers by opening a branch in SM City Cebu; thus making it more accessible to the buying public. Nevertheless, Chester still strives to improve its merchandise mix by adding modiste supplies such as buttons, threads and zippers to complement with its textiles.
21st of April 2003, Chester Enterprises, Inc. established a sister store named Gregoria's Curtains & Trims Haus which is also located in SM City Cebu. The store focuses on home furnishing fabrics; specifically curtains, upholstery, bed sheets and accessories. With this, the Cebuanos has now gained better access to all of its textiles needs.
Mission
Chester Enterprises, Inc. exists to provide the market with high-quality and reasonably priced textile and garment needs.
Vision
Chester Enterprises, Inc. envisions to be the premier source of textile and garment needs in the country.
About the Founder
THE WOMAN WHO LAUNCHED A THOUSAND SHIPS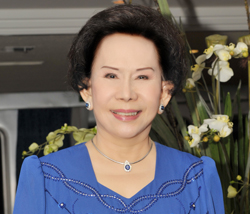 "In every success of a man, is a woman." This is a cliché, but not for Cokaliong Shipping Lines, Inc. and for Chester Enterprises, Inc. Madame Gregoria Cue Cokaliong is the pillar for these highly effective establishments.

Born on the 9th of May 1936, Gregoria Cokaliong inherited the entrepreneurial skills of her parents, Paulino Cue and Julita Lee. Her parents established Sen Hiap Hing Department Store which pioneered the retail distribution in Cebu during the nineteen-fifties, and still marketing well at present. She was raised by her parents with so much love and balanced discipline that made her a success-driven woman. In 1958, she graduated Cum Laude at the University of the Philippines in Diliman with the degree of Bachelor of Science in Mathematics. A degree that was excelled by men in that decade; yet, she surpassed them all with her exemplary academic standing.

Gregoria was married to Edgar Dy Cokaliong who founded Chester Enterprises, Inc. and they were blessed with four children: Chester, Christopher, Cherrylene, and Charlton. Her boys are now her helping hands in running both Cokaliong Shipping Lines Inc., and Chester Enterprises, Inc.

"When two people share a common goal, it is easily achieved."

Edgar and Gregoria Cokaliong started Chester Enteprises, Inc. with a one-door space in Juliana Trade Center along Pedring Lopez Street, fronting the University of San Jose Recoletos campus. With Gregoria's inherited entrepreneurial skills and Edgar's perseverance and dedication, the business has ran smoothly and has created higher demands. Thus, Chester Enterprises, Inc. moved to a wider space in Magallanes Street in 1969 to accommodate wider market coverage and to display more variety of textile and garment products. On the 2nd of October 1978, Chester Enterprises, Inc. has moved to a much wider space in #25-27 A. Borromeo Street, where the establishment is still currently operating. If Edgar and Gregoria used to pay the rent of the spaces for their business, now, they already own the lot and the building in A. Borromeo Street. This is a true testimonial that we write our own success stories.

At present, Chester Enterprises Inc. has branched out to SM City Cebu in the year 2000, and expanded its garment and textile products to linen, curtains, and accessories by opening Gregoria's Curtains and Trims in 2003, also in SM City Cebu.

As a member of the Buddhist Compassion Relief, Tzu Chi Foundation Philippines and Phu Sian Temple, she never forgets to be faithful and to be generous for all the blessings she has received.

Gregoria Cokaliong, has been reaping the fruits of her labor. She may still look busy now as before in running the businesses, but for Gregoria, everything is just as easy as counting one, two, three... She never fails to give time to family and to her grandchildren amidst the hectic calendar.



Awards

Best Textile Company (Metro Cebu Awards)
2010 National Product Quality Excellence Awards
Most Outstanding Textile Company
2009 Philippine Marketing Excellence Awards
No.1 Textile Company
2008 National Shoppers' Choice Hall of Fame Awards
Most Outstanding Textile Company (Metro Cebu Awards)
2007 Philippine Marketing Excellence Awards
No.1 Textile Company (Metro Cebu Awards)
2006 National Shoppers' Choice Annual Awards
No.1 Textile Comapany (Metro Cebu Awards)
2005 National Shoppers' Choice Annual Awards
Most Outstanding Textile Company (Metro Cebu Awards)
2005 Philippine Marketing Excellence Awards
Textile Company (Metro Cebu Awards)
2004 National Soppers' Choice Annual Awards
No.1 Textile Company (Cebu City)
2003 National Shoppers' Choice Annual Awards